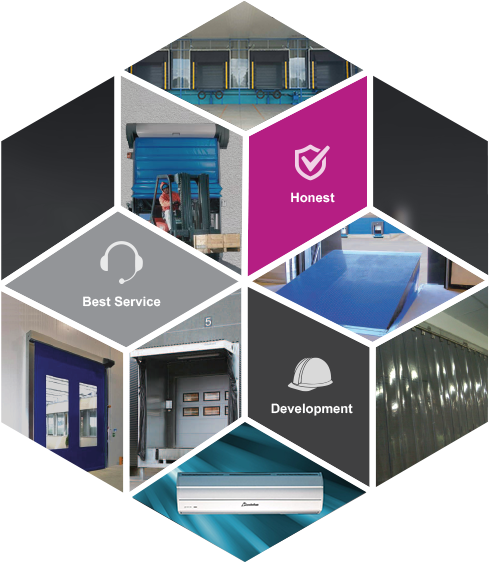 Honesty Protection Supply Co., Ltd.
Honesty Protection Supply Co., Ltd. Established in 2017, registered capital at 5 millions baht. With professional experiences of Mr. Isra Amornrak in the PVC strip curtain, High speed automatic doors, Cold room industrial doors and Loading dock system for more than 25 years as an executive. Plus, we also have well-known professional staffs who gain over 10 years of experiences in this field especially on installation service. We assure you that our product & service will satisfy all customer's need.
With the above reason, we are confident that our customers will receive quality service and efficient problem-solving solution from us. Our products are well selected from all over the world such as Asia, Europe, America, etc. in order that we can provide high quality product & reasonable price to the customers. Honesty Protection Supply Co., Ltd. focus on taking responsibility of after-sales service in order to let our customers getting no concern after receiving product & service from us.
Honesty Protection Supply Co., Ltd. has three commitments:

1. Honesty, Loyalty and Justice: We don't take advantage of customers and ourselves, doing business with justice for the best sake of customer and the company.

2. Best service: We highly intend to provide the best service and solve customer's solution with honesty. We will not ignore all tasks and our customers.

3. Human resources and product: We strongly consider on human resources and product development.
With our company's expertise experiences and vision, we believe that we can provide the best product and service matching with customer's need. Although Honesty Protection Supply Co., Ltd. has started the company in a while, but we do believe that we will get more trust from our customers and getting more reputation in upcoming future. For our existing customers know well that we always provide the best product and service.